Worcester Racecourse, Worcestershire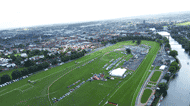 The racecourse is a great central launch point for views of the city and the Malvern Hills. On a clear day views to Bristol and the Severn Estuary are possible. Worcester is easily reached from Birmingham, Wolverhampton, Kidderminster, Bromsgrove, Redditch, Evesham, Cheltenham, Gloucester, The Malverns, Hereford and is only 90 mins form Bristol!
View Warwickshire launch site.